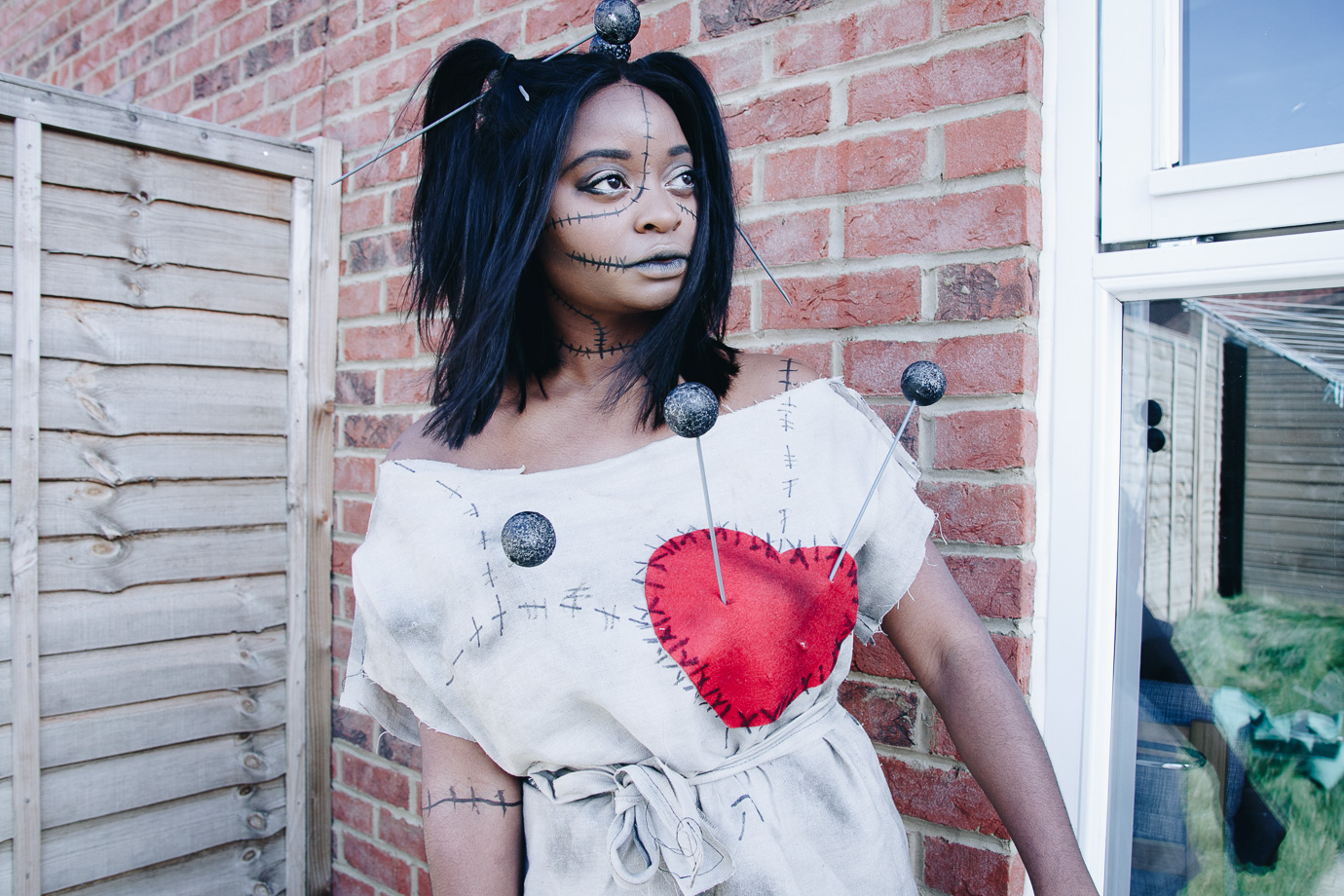 It's that time of year again!!! My favourite holiday and the one all the diyers' go crazy for. Halloween is coming up and this year I am attempting to give you a whole bunch of different costumes. So,  to kick things off we are going for this DIY Voodoo doll costume. First let me just say I am not the best at doing costume makeup so for that I just went onto YouTube and followed one of the many tutorials there. For this costume I would suggest covering your floor area or doing this outside as it can get a little messy. there is of course a much easier version which would be using an existing dress that you no longer need and destroying that to your desired look, But I am extra so this tutorial will be how to make the whole dress from scratch. The best part about this tutorial is that no hemming or finishing is required! In fact we are going to distress the dress once we have made the basic shape.
DIY Voodoo Doll
You Need:
Wooden Skewers
Polystyrene Balls
Paint/spray paint for the Pin Heads (I had some spray paints left over so used them)
Red Felt
Glue Gun
Sewing Supplies (scissors, pins, sewing machine…etc)
T-shirt/skirt to Copy
Fabric (I used a loose canvas you need about 2 meters)
Marker/Pen
How To:
Outfit
To make the dress we are going to make a basic shift dress but with an A-Line skirt bottom. To do this you need an A-Line skirt and T-shirt. You can also use a dress if you have one of the same shape.
Fold your clothes down the centre and place on the folded edge of you fabric. Overlap the top and the skirt a little so the final shape is a whole dress. Trace around the outside with a 1.5cm seam allowance. Cut 2 of these.
Cut a wider neckline for both the front and back piece by cutting from shoulder point to shoulder point.
Sew both shoulder points together with the right sides facing.
Sew dress together at the side seams, armpit to bottom then close the sleeve armpit to sleeve end.
Cut a long rectangle strip of fabric to tie around your waist. It should be about 6 inches wide. Fold in half and sew the 3 open sides together.
All that's left to do now is to  distress the dress till it's tatty and your desired colour. You can do this with dyes, spray paints, fabric paint of even using tea to stain the dress.
Use the markers to paint random stitching lines around the dress so it looks like it was crudely stitched together. Dashes and exaggerated crosses will add to the look.
That is the dress part of your voodoo doll finished!! Let's get onto the accessories.
Accessories
To make the Heart, Draw a large heart shape onto your red felt and cut out. Glue the heart to the outside of the dress and then paint large stitching lines around the outside of the heart.
To make the pins, paint the wooden skewers silver/grey  Paint the balls so they look like the pin heads. (I spray painted mine black) and leave to dry. Once both the sticks and balls are dry,  push the blunt end of the wooden skewers into the polystyrene balls.  Secure them together using a little bit of glue in the hole. Make as many of these as you want. I made 8 for this costume.
Attach the pins to your outfit using the sharp end of the skewers. Be sure to stick a few in the heart. Using the glue gun to fix some of them in place.
All that's left to do is you hair and make up. Making sure to carry on the lines across your face and body. Stick a few of the pins into your hair and TADA! you are all finished.
And Thats it! you are one scary (but also cute) looking voodoo doll!!
Hope you have fun this halloween. If you are looking for other ideas check last year's costume: DIY Magical Unicorn!