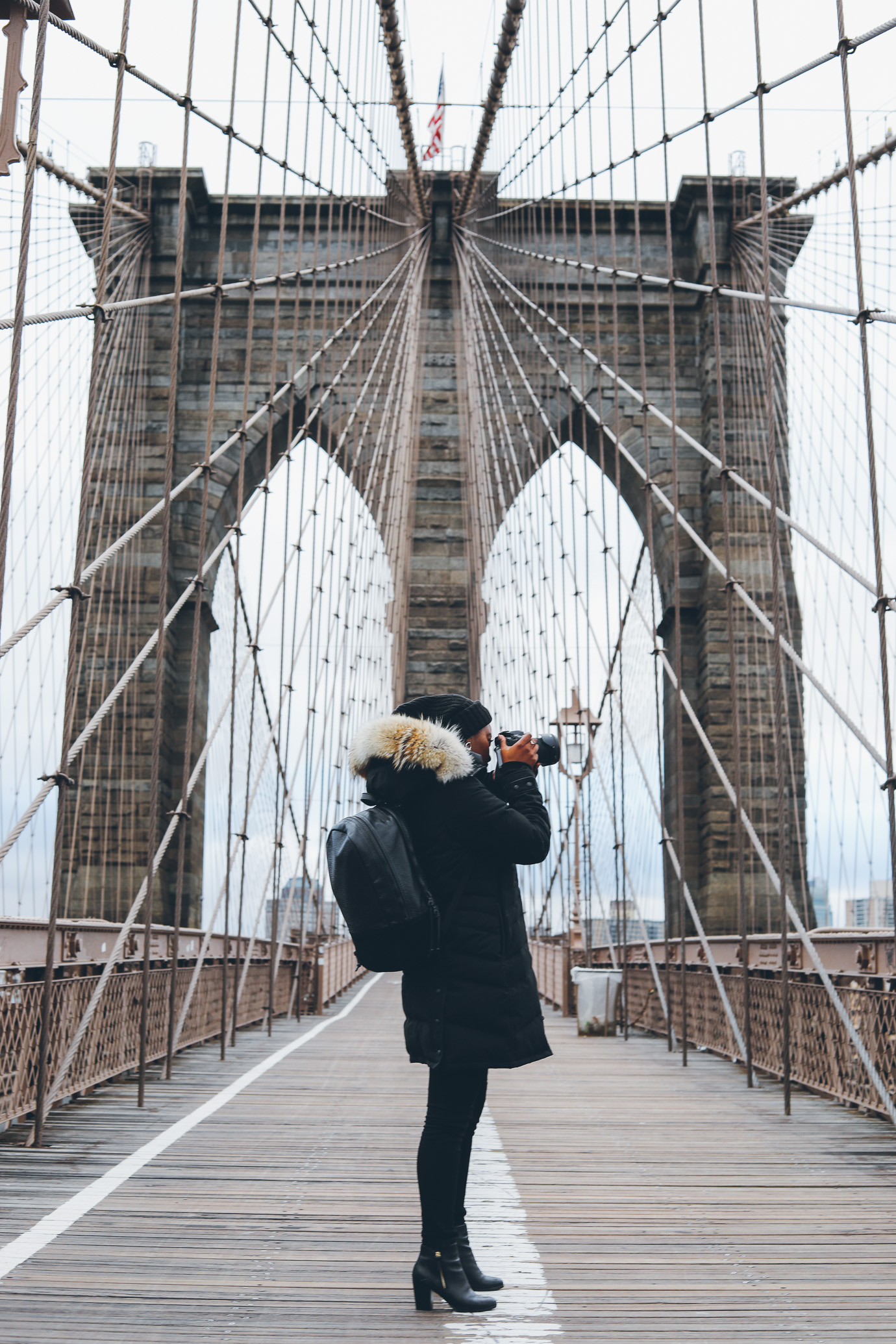 It seems I never have enough time to really explore New York. So every time I visit I like to pick an area and really get to know it. I reserved my first day for the garment district (amazing) and decided that Brooklyn is the next choice for a day adventure.
After some extensive research (instagram, google) I had a nice easy plan of where to go, with sometime to get sidetracked. (which always happens)
We woke up extra early to catch the morning sun and walk over the iconic Brooklyn Bridge. It was so cold but I wanted to get some shots and footage in morning light and before the crowds got in. #bloggerlife
If you want the pictures, I would highly suggest setting that alarm and getting there just as sunrise is happening. In our case that meant getting up at 6am to get to the bridge for 7am. It really paid off though because LOOK AT THEM SHOTS…. worth it.
All that picture taking worked up an appetite so we went in search of some sustenance. On our way to the breakfast spot we walked through Dumbo. This place is an instagrammers dream. There is literally a perfect shot lined up on every street corner. Which was kinda perfect for me. So naturally the walk to the restaurant was a *tad longer than it should have been. (but I planned for this so… yay!) We ate breakfast at VHH foods by the waterfront.
As for the rest of  Brooklyn… well we didn't really get round to explore to much of it. I blame the cold really… by the time we were ready for lunch it was -5 degrees!  There is some fantastic artwork on the streets though, which had us occupied for more than enough time. We did however, find a really cute bakery in  Williamsburg where they had hot apple cider and the tastiest macaroons. Nutella and Mint Chocolate! Need I say more? Find that gem here.
All in all a really short trip to New York but I know I'll be back again. Maybe next time I can whip us up a little guide…. I would practically be a local by then right?
Till next time…