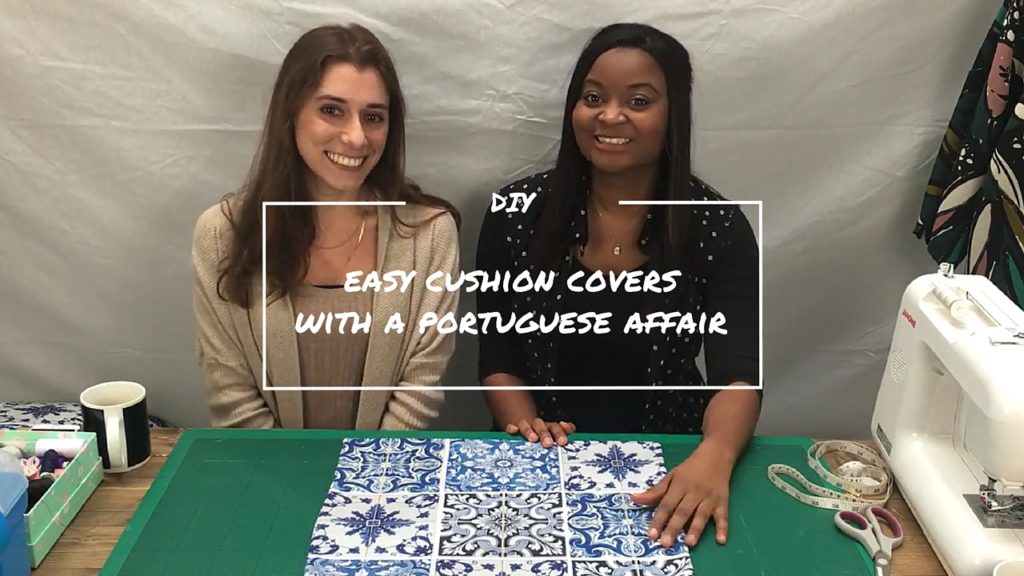 Sometimes all you need is an afternoon of sewing and laughter and all is well again!!
On days when I feel a little stuck in a sewing rut (or when I"m staring at a pile of UFO"s) I always fall back on my tried and tested instant gratification project. The cushion cover.
Simple and easy, it truly is a project that keeps giving. They make great gifts for the home, office or anywhere that could do with a bit of chic comfiness.  I make cushions whenever I feel our living room could do with a colour change or when I find a print/fabric I cannot live without in my life. I love a good cushion and these ones only take 15-30 mins to make. #Winning
One of my besties, Catarina from A Portuguese Affair  was recently in town and brought with her some beautiful portuguese azulejo fabric. (she always comes with gifts- she's a keeper)
This seemed like a perfect time to refill the creative bank and also create a friendly gift for my mate to take home. (also, it was a good opportunity to teach her some sewing skills as she has been nagging asking me how to make cushions.)
This a really simple cushion project, great for beginners. If you can sew in a straight line then this project is for you. Once you have this in your skill bag you can churn them out pretty quickly. Cushions for everyone!!!!! Yessssssss!
OMG! Don't they look great?
Catarina is looking pretty happy with these, don't you think? Why don't you pop over to her blog to see what she thinks of them? You can follow Catarina on her blog A Portuguese Affair. Also catch her on Twitter , Facebook , Instagram  and Pinterest.  I would love to see your makes! post in the comments or send me a pic on Instagram  or Twitter! !!