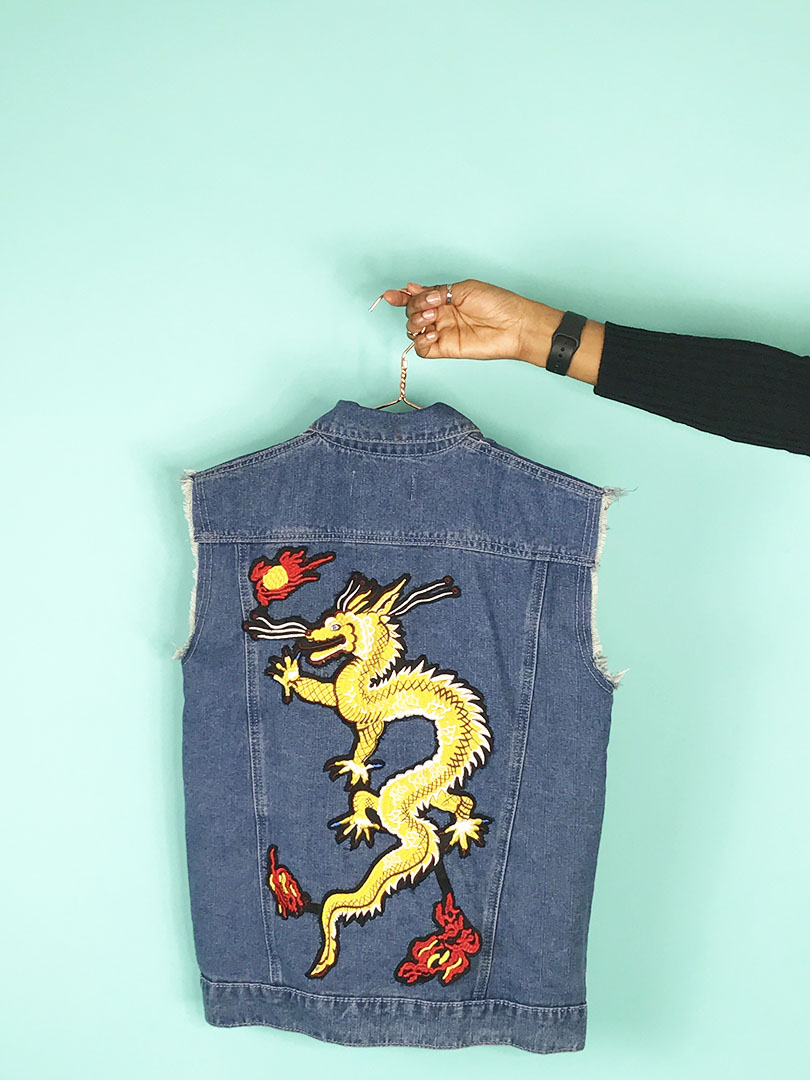 Denim is a staple for everyone, it's pretty much my daily uniform. So why not give your old jeans a little love?

Denim is exciting right now, there is so much creativity happening in the industry. It's a perfect time to go and get crafty with your old jeans and denim items. Last year saw the beginnings of the embroidery trend, bleaching, and painting on denim and I for one am super happy that I can get stuck into updating all my denim pieces. So let's get started with an easy one, the denim patch.
Denim Patches
We saw them all over the catwalks last summer, The patch is back and strutting straight into 2017 with us.  Which is great news for us because they are so easy to DIY. I went a bit patch crazy online and ordered a whole bunch to cover my clothes with and then went to Hong Kong and lost my mind again, so I have a fair amount to chose from. Let's get started.
You Need:
Iron on/ Embroidered patches (here, here, here)
Denim clothing
Iron (optional)
Fabric Glue (optional)
Pins
Needle and thread in matching colour.
How To:
Lay your clothing out on a flat surface. Play around with placement for your patches. Don't be afraid to overlap. It all depends on the look you are trying to achieve.
Once you have chosen your placement, you have 2 options to attach your patches.
Option 1:
You can iron them on. To Iron on you need to make sure the patches you have purchased have the special backing which will fuse to the fabric with heat.
Place the patch sticky/fusible side down on to the clothing.
Place a cotton cloth over the top to protect the patch and then iron into place.
Press down for a few seconds then let cool. EASY!
Repeat this for all patches until all the patches are secure. AND you are done!!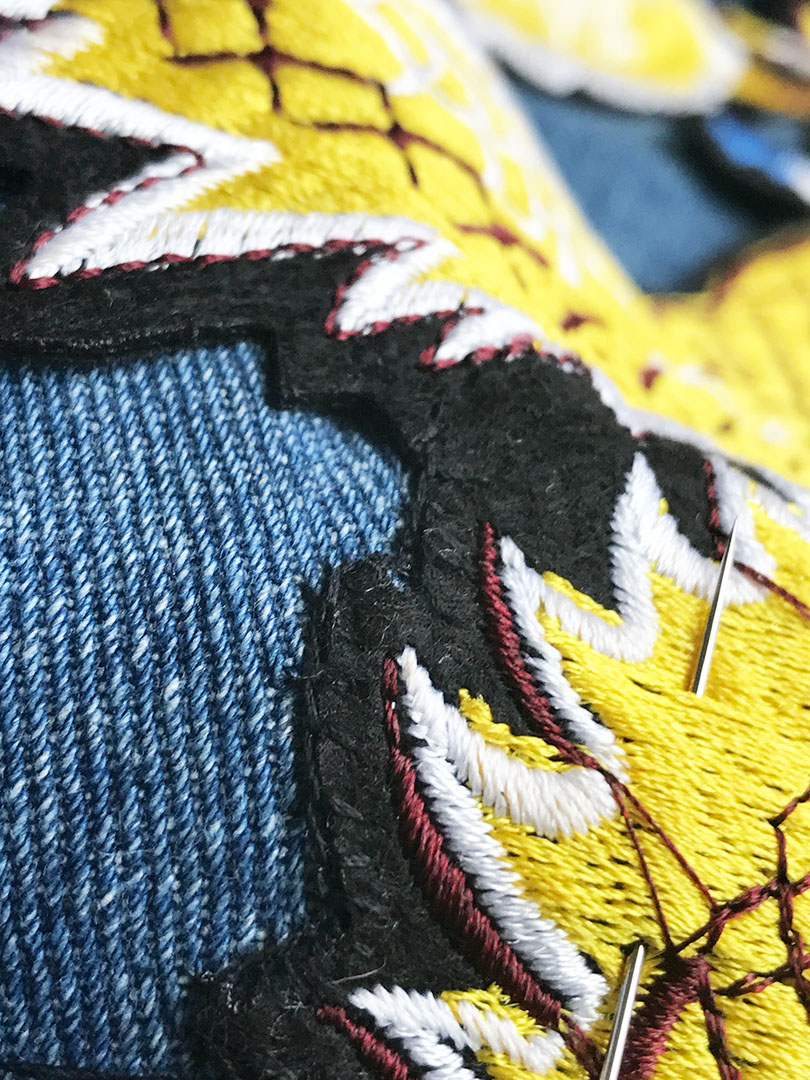 Option 2:
Alternatively you can also hand stitch the patches into place.
This is a little more time consuming but I prefer this option since I find the patches to be more secure and don't peel off after time.
Stitching also allows me to take the patches off with little damage to the clothing. The patches can then be reused in another project.
To stitch, Pin the patch to the desired spot.
Thread a needle and tie a knot in the end. Start on the inside of the jacket to hide the knot and then whip stitch around the perimeter of the patch.
Make sure your last stitch ends on the inside of the jacket and tie a knot to secure in place.
ALL DONE!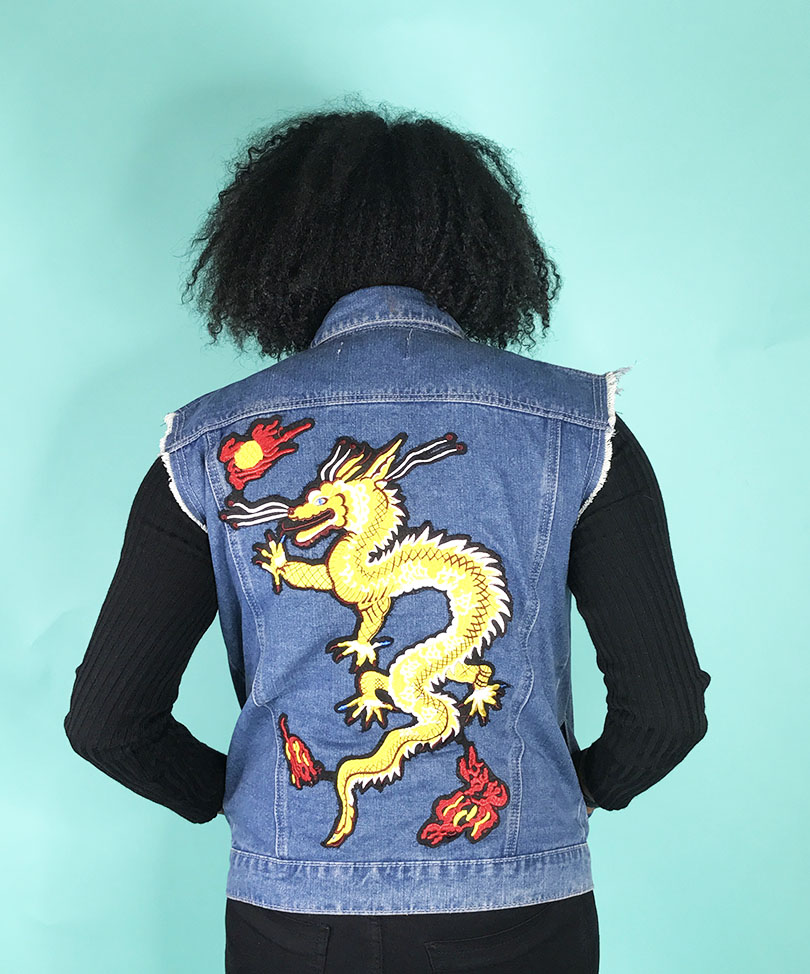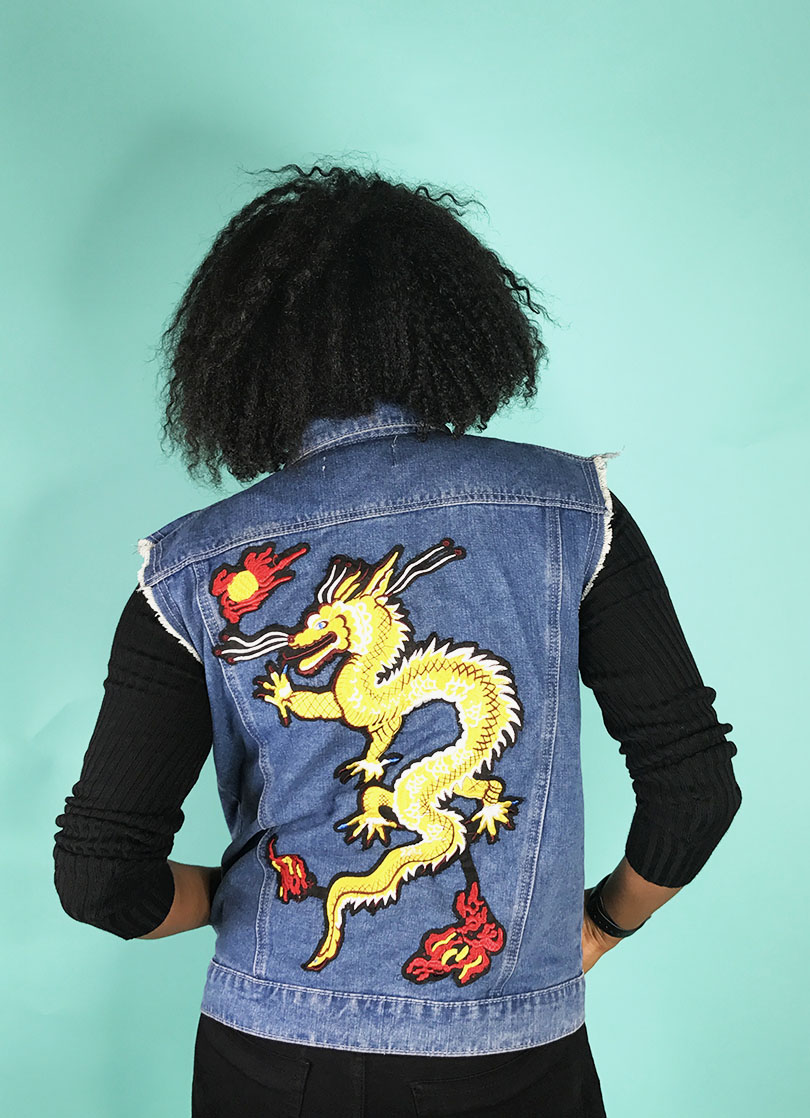 Didn't I say it was easy?
Stay tuned for the next Denim updates coming soon!!